Tiki EASTER ISLAND TILE MOSAIC-Themed 50.5" x 10.5" Latch Hook Rug Kit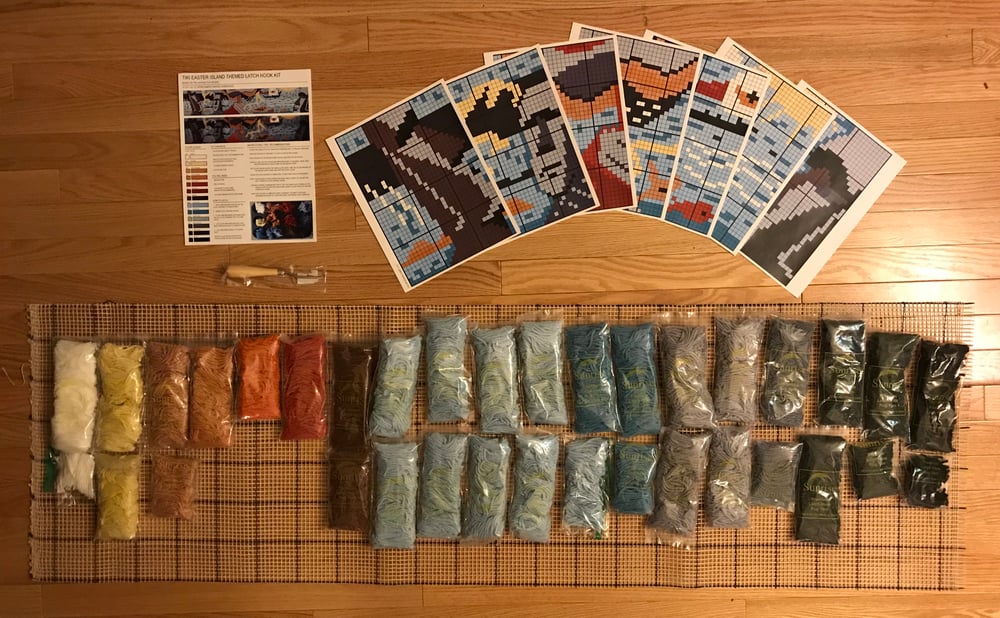 Finally - The highly sought after, iconic Tiki Easter Island Tile Mosaic image can be yours... In rug form!
This well known design was originally created in the 1960's at the height of Tiki's popularity as a large, wall-sized tile mosaic hobbyist kit. These huge pieces have become increasingly hard to come by over the years and now are truly a rarity (if not an impossible find) in the wild.
With our do-it-yourself Moai Latch Hook Rug Kit, you can create your own 10 1/2" x 50 1/2" rug of this classic mid-century design to hang proudly in your home or Tiki bar!
Although the design looks complicated, the process of latch-hook is easy - AND FUN!
This kit includes everything you'll need to create this fine piece of MCM rug art, including:
-Custom seven-page color design chart
-Information sheet with instructions, tips, and recommendations (we've practiced what we preach!)
-9,600 pre-cut latch-hook rug yarn pieces in 13 different colors (8,000 pieces are needed, so extras are included for goof ups)
-Mesh gridded canvas
-Latch hook tool
All you will need is masking tape, a pen or pencil, and rug edge binding (or a picture frame) for finishing.
This incredibly eye-catching, full-color classic art piece will compliment any mid-century inspired room, and will be sure to catch the eye of all your guests during your swingin' cocktail parties!